Ground Floor
Our ground floor flat consists of two guest rooms, a lounge, a kitchen and a bathroom. You can watch TV in our guest rooms as well as in our lounge.
Room 1
In room 1, there is a 90cm-bed.
You can put your clothes in the large cupboard.
Room 2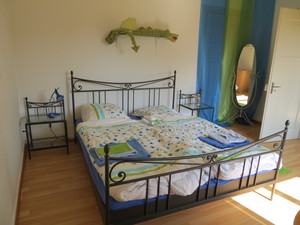 A 160cm-bed is offering a sleeping place for single persons or couples.
Clothes can be stored in the built-in cupboard.
Lounge
Guests can relax in our lounge with an area of 15 square meters. During winter time, a stove can be used for recovering from workaday life.
Kitchen and Bathroom
In our kitchen, guests can cook their own food and eat it at the large kitchen table. Fridge, microwave and coffee machine are available for our guests.
The bathroom is cleaned regularly.